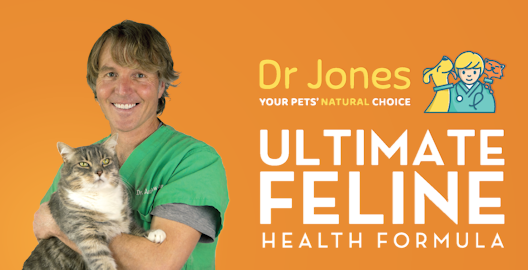 (Click on image to zoom)


Dr. Jones' Ultimate Feline Health Formula
Ultimate Feline is Non-GMO and gluten free, and contains no wheat, corn, or soy.


Ingredients


MINERALS:
Calcium (as carbonate)
37mg
Magnesium (as oxide)
3.9mg
Zinc (as citrate)
3.9mg
Selenium (sodium selenite)
8mcg
Manganese (as amino acid chelate)
0.01mg
Iron (amino acid chelate)
0.6mg
Copper (as amino acid chelate)
0.08mg
Iodine (as potassium iodide)
0.01mg
Molybdenum (as amino acid chelate)
0.005mg
Montmorillonite (micro mineral blend)
39mcg


VITAMINS:
Vitamin A (retinyl palmitate)
312IU
Vitamin C (ascorbic acid)
16mg
Vitamin E (mixed tocopherols)
8mg
Vitamin D (cholecalciferol)
55IU
Vitamin K (phytonadione)
50mcg
Vitamin B2 (riboflavin)
0.16mg
Vitamin B6 (pyridoxine hydrochloride)
0.08mg
Vitamin B12 (cyanocobalamin)
8mcg
Biotin
0.08mg
Folic Acid
1mg
Niacin (niacinimide)
0.16mg
Pantothenic Acid
0.94mg
Thiamin
0.3mg


JOINT SUPPORT BLEND
480mg

Glucosamine HC l
Chondroitin Sulfate
MSM (methylsulfonyl methane)



PREBIOTICS AND PROBIOTICS BLEND
100mg

Fructooligosaccharides
L. acidophilus
L. Bifidum
B. Longum
L. Rhamnosus
S. Thermophilus
B. Brevis
L. Bulgaricus



KEY AMINO ACIDS BLEND
180mg

l-lysine
l-methionine
l-arginine
l-taurine



KEY IMMUNE PROTECTIVE BLEND
190mg

Bovine colostrum
Inositol hexaphosphate
Aloe vera (200:1 extract)
Maitake (4:1 extract)



OTHER INGREDIENTS

Dehydrated Chicken, Dehydrated Chicken Liver, spice (for flavor)
Silica (derived from sand - completely non-toxic, used for moisture prevention)



And that's it!

There are no fillers or extra ingredients in Dr. Jones' Ultimate Feline Health Formula. There are NO artificial colors, flavors, or preservatives. The supplement is naturally preserved with Vitamin E.


Ultimate Feline is a powder, and comes with a serving scoop. The recommended dosage is 1 scoop per day, which you can split across meals or give with one meal. The scoop size is 5cc (1 tsp).




Are You Ready to Order Dr. Jones' Ultimate Feline Health Formula?
Copyright © 2023 Four Paws Online Ltd. All Rights Reserved.